869-465-2000
869-466-7308
869-465-2013 / 600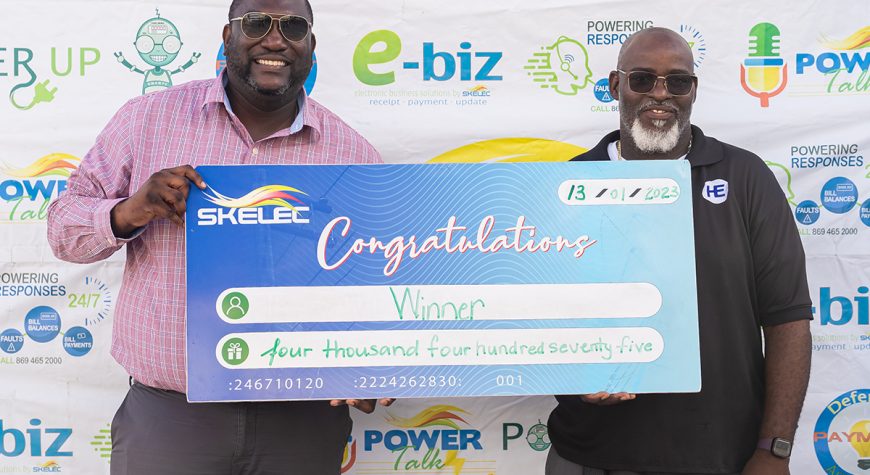 Basseterre, St. Kitts (January 16th, 2023)—Mrs. Patricia Hobson of Bird Rock won four thousand four hundred seventy-five dollars ($4,475.00) through SKELEC's Christmas 2022 promotion. The draw took place on Friday 13th January 2023 in SKELEC's parking lot on Central Street. Hobson was randomly chosen from over 12,000 entries and won the chance to enter the cash vault. Hobson chose Mr. Leon Norford to enter the vault on her behalf.
According to SKELEC's General Manager, Mr. Clement Williams, SKELEC is pleased for the opportunity to give back to its customers. "SKELEC, like many of our customers faced several challenges in 2022 and we felt it was important to give back to our customers. We want to thank all of our customers who participated in this promotion. I am assuring you that we will continue to have promotions like these to give back to our customers," Mr. Williams said.
The St. Kitts Electricity Company Ltd wishes to congratulate Mrs. Patricia Hobson the winner of the company's 2022 Christmas promotion. SKELEC takes this opportunity to encourage all customers to continue to make bill payments regularly to be eligible to participate in all upcoming promotions.
SKELEC's Christmas 2022 promotion dubbed '$10,000 up for grabs', allowed customers to receive one entry for each payment made for a chance to enter a cash vault to grab cash and win up to $10,000.00. To be eligible for the draw residential customers must have either cleared their bills or made a payment of $500 or more on their arrears in November and December 2022.
For more SKELEC updates please visit our Facebook page: SKELEC- St. Kitts Electricity Company Ltd.