869-465-2000
869-466-7308
869-465-2013 / 600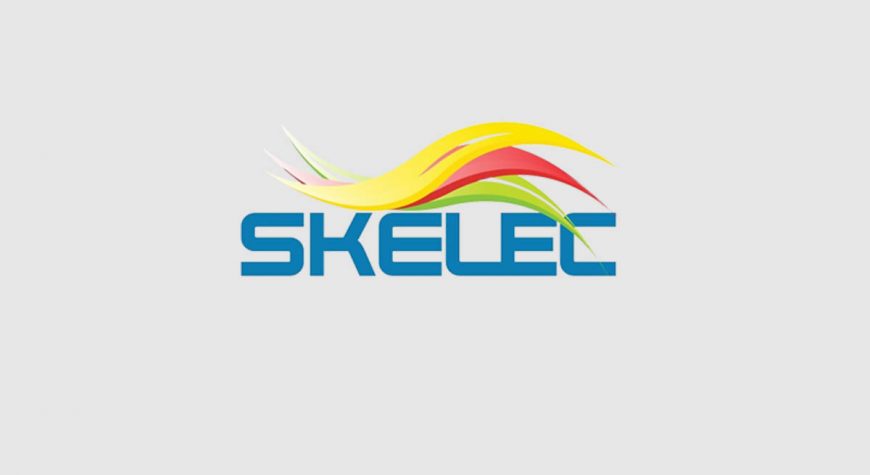 The St. Kitts Electricity Company Limited is pleased to welcome its new Board of Directors which will be chaired by Mrs Nuricer Archibald.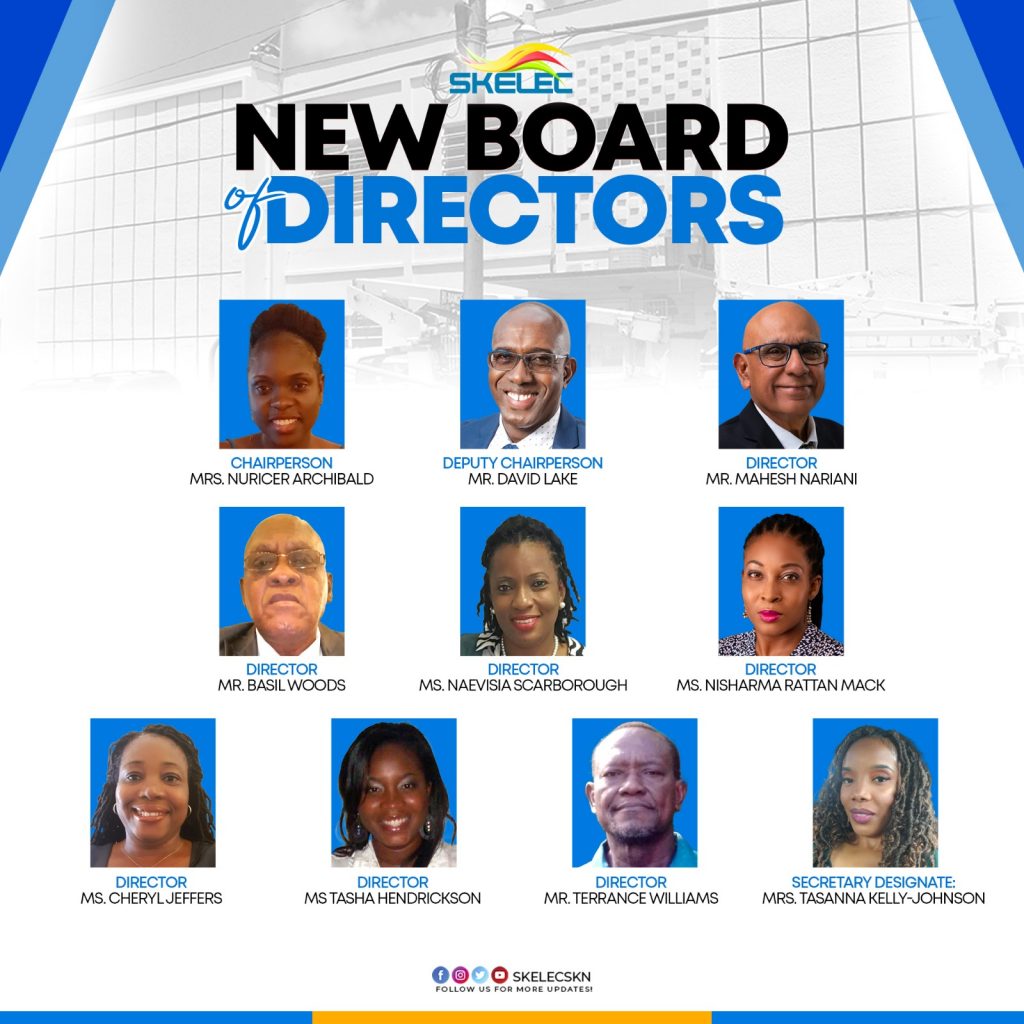 Chairperson: Mrs. Nuricer Archibald
Mrs. Archibald is a multidisciplined professional who has been employed at the St. Kitts-Nevis National Bank since 2008 where she has served as Senior Officer, Loans Manager, Senior Manager, managing the Sandy Point Branch of SKNANB, and Senior Manager in Corporate Lending. Mrs. Archibald holds a 1st Class Honors degree in a BSc of Social Sciences from the University of the West Indies, is an Anti-Money Laundering Certified Associate (AMLCA) and holds a MSc in Human Resource Management and Training from the University of Leicester. With this background, Mrs. Archibald is ideally positioned at this time to address the critical issues facing SKELEC as the Government seeks to ensure that the power generation utility is financially sound and properly resourced to meet the challenges and opportunities ahead.
Deputy Chairperson: Mr. David Lake
Mr. Lake comes to this position as a Business Executive with over 23 years of experience in the telecommunications industry, with 13 years serving as the General Manager of FLOW/LIME. Mr. Lake is a trained engineer obtaining a BSc in Industrial Engineering from the University of the West Indies. Mr. Lake also holds a MSc in Integrated Management Systems from the University of Birmingham. Throughout his professional career, Mr. Lake has held several directorship positions and professional and community memberships. Mr. Lake, therefore, brings a wealth of experience and is well positioned to leverage his multidisciplined background, especially the skills honed through leadership of a large multi-national corporation, to aide in the growth and transformation of SKELEC.
Director: Mr. Mahesh Nariani
Mr. Nariani currently serves as the Managing Director of the Sun Island Group of companies which includes Sun Island Clothes Ltd, Victory Packaging Ltd. and Sun Pharmacy. Mr. Nariani has been with the company for the past 45 years and as a result is well versed in all areas of management. In addition to having served in the different directorships, Mr. Nariani was one of the founding members of the Manufacturers Association which joined with the Chamber of Commerce to become the Chamber of Industry and Commerce. Mr. Nariani graduated from the University of Bombay with a BSc in Chemistry and has completed courses in Business Management at the State University of New York. Mr. Nariani is also a member of the Caribbean Institute of Chartered Directors. Having served on the SKELEC Board of Directors since 2011, in various capacities including as finance subcommittee chairman, technical subcommittee chairman and Chairman of the Board, Mr. Nariani will be an invaluable source of institutional knowledge for the newly appointed Board.
Director: Mr. Basil Woods
Mr. Woods has been one of the leading electricians in St. Kitts & Nevis for over 45 years. In 1983, Mr. Woods established Basval Electric Ltd to provide electrical services to the Federation for almost 40 years. Mr. Woods honed his skills through studies at the National Technical College, Penn Foster Electrical Training Program and an Associate Degree in Electrical Engineering at Ashwood University. Mr. Woods is trained in Generator Installation and Repairs with specialization in Diesel Units, trained in PLC and Digital programming and has worked extensively in residential, commercial, and industrial electrical wiring installations. Mr. Woods' qualifications and experience positions him as an excellent technical adviser on the SKELEC Board.
Director: Ms. Naevisia Scarborough
Ms. Scarborough is an experienced administrator having served 9 years as Personal Assistant to the Minister of Tourism, 5 years as a Labour Officer with focus on Occupational Health & Safety, and Policy & Labour Relations and now as the Personal Assistant to the Minister of Energy & Utilities et al. Ms. Scarborough has training in Business Studies, Accounting for Non-Accounting Managers, Crisis Communication, Supervisory Management, Advanced Executive Secretaries Skills Development, and Protocol and Diplomacy Administration. In addition to the administrative experience that Ms. Scarborough brings she will also provide a crucial link between the Ministry of Energy & Utilities and the Board of Directors.
Director: Ms. Nisharma Rattan Mack
Ms. Rattan Mack is an Attorney at Law presently practicing as a Crown Counsel in the Attorney General's Chambers. Over the last 10 years, in the AG's Chambers, Ms. Rattan Mack has amassed a wealth of experience in the legal practice through appearances to represent the Government of St. Kitts & Nevis in the Magistrate Court, the High Court, and the Court of Appeal, providing legal advice to Ministries of Government and Government Departments, reviewing of draft Legislation to be tabled in Parliament, and, among other things, prepare and vet Government agreements. Ms. Rattan Mack has also represented the Attorney General's Chambers on several critical Boards and Committees. Ms. Rattan Mack received her Bachelor of Laws (LLB) Hons from the University of the West Indies in 2010 and her Legal Education Certificate (LEC) from the Norman Manley School of Law in 2012. In addition to the Legal experience that Ms. Rattan Mack brings to the Board, she will also be an important link between the Board of Directors at SKELEC and the Attorney General's Office.
Director: Ms. Cheryl Jeffers
Ms. Jeffers is an experienced environmental professional with over 10 years of experience in planning and environmental management and has been serving as a Conservation Officer in the Department of Environment since 2016. Ms. Jeffers is also an administrative expert in drafting TORs and project proposals, and organizing and coordinating logistics to facilitate local, regional, and International multi stakeholder meetings. Ms. Jeffers is also well connected in the Climate Action circles around the globe. Ms. Jeffers has a Bachelor of Arts in Business Administration with Specialization in Management from the Florida Institute of Technology and an MBA in Project Management from the same institution. As SKELEC readies itself for the transformation to renewable energy, Ms. Jeffers will provide an excellent gateway to the Climate Action agenda of the country in ensuring that the most environmentally friendly approaches are taken as we move to energy independence.
Director: Ms Tasha Hendrickson
Ms. Hendrickson has combined experiences that revolve around public relations, marketing, project management, research, sales, corporate branding, media relations, social media, and business management for over 12 years as a Public Relations Officer at the St. Christopher and Nevis Social Security Board. Ms. Hendrickson is a graduate of the Trinidad & Tobago Hospitality and Tourism Institute with an A.S.c. in Tourism Management and also a graduate of the Southern New Hampshire University with a BA in Communications with a concentration in Public Relations. Ms. Hendrickson has a proven track record of expertly managing multi-unit operations while integrating new technologies to automate and enhance the efficiency of daily functions. Ms. Hendrickson is also well regarded for crafting engaging and creative ads, social media postings, and other marketing collateral that increase brand awareness. Ms. Hendrickson's combined experiences will undoubtedly provide invaluable support to the Board at SKELEC.
Director: Mr. Terrance Williams
Mr. Terrance Williams is a community activist extraordinaire and a true representative of the masses. Mr. Williams worked for 16 years at the Development Bank and 6 years at Delisle Walwyn in varying roles and over 20 years as a Taxi Operator. Mr. Williams was trained at the National Technical College after leaving high school and with his varied experiences will provide the Board at SKELEC with a well-rounded perspective on behalf of the consumer.
Secretary Designate: Mrs. Tasanna Kelly-Johnson
Mrs. Tasanna Kelly-Johnson is a trained teacher who has been teaching for the last 15 years firstly at the Irish Town Primary School and then at the Deane Glasford Primary School. Mrs. Kelly-Johnson obtained her Associate Degree in Primary Education from the Clarence Fitzroy Bryant College and is currently pursuing a BSc in Social Work from the University of the West Indies. Mrs. Kelly-Johnson is an avid reader and writer and has scripted many skits, plays and creative pieces. Mrs. Kelly-Johnson is a former member and Alumni of the St. Kitts Youth Parliament Association where she served as General Secretary during some of her time as an active member. Given Mrs. Kelly-Johnson's background as an educator and writer, she is ideally positioned to perform the duties of secretary of the Board of Directors.